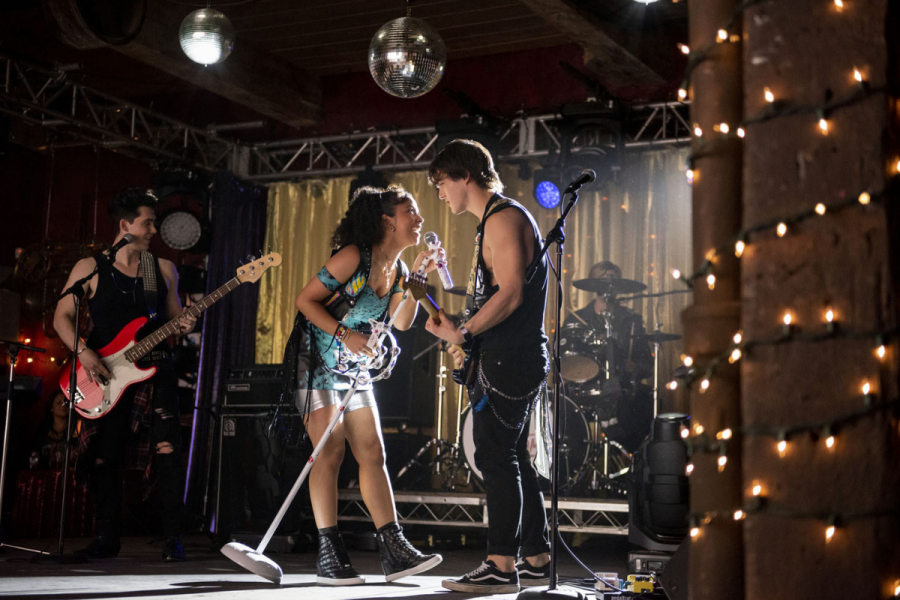 No 2020 isn't canceled. Because cancel culture never helped anyone, it's time to learn new things, share knowledge and love for music, raise awareness and grow up all together to enjoy music better. Let's learn from yesterday to build today and enjoy tomorrow more. We create this new section on our website to show you how to consume music differently in 2020, enjoy music from home and support artists and the whole industry.
Today we are talking about:
Musical TV Shows: Julie and The Phantoms
Ok, I know what you are thinking: TV Series are cool but they will never replace Rock shows. But we have to stay home and safe. I guess, we have to get over it, right? It could be worse; all we have to do is taking care of each other. Maybe it's also time to take care of ourselves too, what do you think about that? I have a cool suggestion: watching a great TV show with Rock music and… ghosts!
You probably have already watched all the episodes of Glee 55 times and are waiting for HSM: The musical: The series season 2. Now, it's time to save Rock'n'Roll. Julie and The Phantoms was the TV Series you didn't know you needed. If you're a music lover, here're 10 good reasons to watch it.
A feelgood TV Show, not only for teens
We miss gigs more than ever. We miss the excitement before the first riffs, buying T-shirts way too big that will probably become pajamas or crop tops, the dodgy hot dogs/pizzas we shouldn't have eaten before the show… Julie And The Phantoms (JATP) brings us back to these fun moments we had with our friends. That's pure nostalgia for music lovers, even more if you are a 80s or 90s kid. The music, the outfits, the haircuts (Nick Carter wants his hair back, Alex)… If you miss those years or the teenage movies from the early 2000s, this show is for you.
It's funny, heartbreaking, cute but also truly poetic and positive. It's all about hope and love, coping with grief and loss and believing in ourselves. It's comforting. It's the perfect show to watch if you need a lil extra shine today.
The short-form
Julie And The Phantoms, it's only 9 episodes, and the longest one lasts 38 minutes. It's quite short and easy to binge-watch in one day or two. The short-form is also really convenient to watch on your smartphone: on the bus, during lunch, before going to bed…Just like The Good Place, Brooklyn Nine Nine or The Big Bang Theory.

It's even more easier to rewatch it and enjoy the songs one more time, and at least now, you know the lyrics!
It's produced by Kenny Ortega
You probably already heard his name. He worked on many cool projects such as High School Musical, Descendants, Ally McBeal, Gilmore Girls, The Rocky Horror Picture Show: Let's Do the Time Warp Again but also was the choreographer of Dirty Dancing. As a Halloween lover, I can't keep it for myself: he also worked on Hocus Pocus, and that's pretty sick. This guy knows how to put a spell on us.
The songs are hits and the TV show is emotionally smart
The melodies are very catchy or truly heartbreaking, just like the smart and deep lyrics. The songs are powerful and help to convey a reel message fitting perfectly with the emotion of the scenes. A lot of musical TV Shows or movies have this problem of "useless" or awkward songs. Ok, this is quite funny and that's probably why we love musicals that much. But with Julie And The Phantoms the songs sincerally seem to be written by a band. They are here to convey a message or a feeling hiding deep inside of the characters. These songs are like therapy and help to move on. They talk about grief, self-confidence, ambition…
All the songs are on Deezer and Spotify!
The band is so good, it could be a real one
All the members of the band Julie And The Phantoms are real musicians and singers. The alchemy on stage is undeniable and they are all real friends. Like any band this year, they did livestreams to play their songs together.
Charlie Gillespie (Luke) also gave a guitar tutorial on his Instagram, and Jeremy Shada's wife has even made a T-shirt of the band.
The fans already imagined seeing them on tour and created fake tour posters. The guys seemed enthusiastic about this idea.
It's impossible to choose a favorite member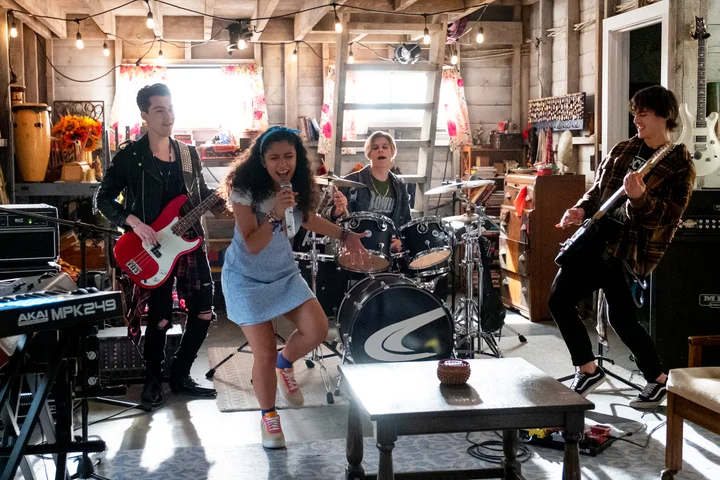 Julie is a strong and independent teenage girl and seriously, if you can choose who's your favorite between Luke, Reggie or Alex, you're not human. They are literally all so cool, funny and gifted. Most of the time, in TV Shows you always have a favorite character and the one you hate, but in JATP, this shit is not easy peasy pumpkin peasy pumpkin pie.
Booboo Stewart isn't in the band, but he plays a really cool sk8ter boi, and trust me, you'll like him too. I can't finish this part without talking about Flynn, Julie's bestfriend. She's so supportive, funny and stylish, she's the friend we all want to have.
They all have good taste in music and seem so cool
Maybe we're not really objective because if you look at their playlists (and the ones they made up for their characters), Madison, Charlie, Owen and Jeremy, could be part of our team: 5 Seconds Of Summer, Harry Styles, Green Day, Guns'N Roses, Panic! At The Disco, Eagles, Cher, Billy Joel… Charlie Gillespie (Luke) has guilty pleasures, just like everyone of us: I Want It That Way and Mamamia. Let's be honnest, I'm glad I'm not being the only rock addict haunted by these songs.
And who's the emo of the band (because there's always one)?
We'd say, probably Jeremy Shada (Reggie). His Instagram can't lie:
Cabaret is Rock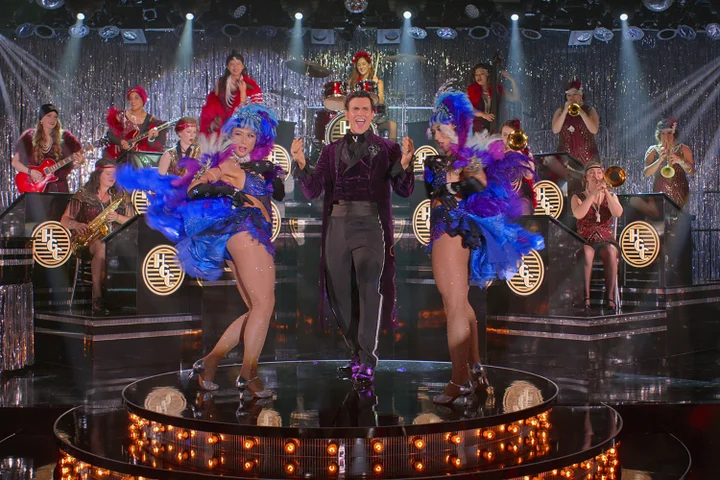 Panic! At The Disco with Crazy = Genius, My Chemical Romance with their Black Parade album, bands from 2000s were obsessed with the cabaret style. This whole idea of a cabaret directed by Cheyenne Jackson (American Horror Story) in a haunted hotel in Hollywood is just brilliant.
Ghosts & Rock'n'roll
We all love a spooky story… Do you know Château Marmont on West Hollywood?
It actually looks like the haunted hotel of the show. Okay, maybe it's just a coincidence, but it's definitely more Rock'n'roll to say « It's not ». James Dean jumped through a window, John Belushi overdosed in bungalow number three, Led Zeppelin drove their Harley Davidsons into the hotel lobby, Jim Morrison dangled precariously from his window, John Frusciante who lived there a few years, almost died because of a drug addiction and Heath Ledger partied here the week before he passed away (and we're still not over it).
Rock'n'Roll has always been fascinated with the afterlife. Many rock albums were recorded in haunted places such as OK Cumpture (Radiohead), Blood Sugar Sex Magik (Red Hot), Sabbath Bloody Sabbath (Black Sabbath), All We Know Of Heaven, All We Need Oh Hell (PVRIS), Hypnotize and Mezmerize (System Of A Down), The Black Parade (My Chemical Romance), The Downward Spiral (Nine Inch Nail) and Foo Fighters' latest album, which is yet to be released.
Unsaid Emily
Nothing to add (spoiler alert).
Disney Channel and Nickelodeon revealed their biggest stars (Britney Spears, Justin Timberlake, Ariana Grande…). What if Netflix was a hotbed of talent? Imagine the possibilities and the exposure anyone could get from this platform. Gifted new artists can turn into trending celebrities in a matter of days. This time, it's Rock'n'roll's time to shine! So if you haven't watched it yet, I hope I convinced you, headbangers, to Netflix and chill.
Tell your friends,